A brain is the most important part of human. It performs many functions such as memorize, calculate, process to control other parts of the body. To improve brain is worth to invest. While children grow, their brains grow. Exercise makes children grow fast and strong. Brain training is like exercise. It makes brains grow powerful. Children with powerful brains have high potential to succeed in study and work.

Many free brain training exercises are provided in this website.

Learn vocabulary with pictures are free brain training exercises for improving memory. More than 700 words are classified. Every word matches with a picture. Pictures help children learn the meaning of words. Moreover, they are used to play matching games, match vocabulary with pictures. These games are great for improving memory. Children can play games online. When they start to win more often, they will know their brains are growing. The games time children. Children try to beat a time limit. They try everyday, then they will see positive gains in how fast their brains are working.

Maths games are free brain training exercises for improving maths skills. They are designed for children to improve basic mathematical skills of +, -, x, ÷. Games work as trainers. They ask questions and get answers from children. Then check the answers. If they are wrong, the right ones are shown. The right or wrong answers make different change in the events of games and cause win or lose. Students or parents can define the complexity of math questions in the configuration of games such as specify how many digits, how many decimal places, negative numbers are allowed or not etc.

Vocabulary online is a free tool for improving language skills. It works as a vocabulary note book in online database. Students can add their vocabulary into their vocabulary note books and use it to play games which are created for this special purpose. The more games they play, the more vocabulary they memorize. The database is UTF-8 unicode that supports any languages. Students can access their vocabulary note books 24 hours from anywhere with any devices that can connect internet such as desktop computer, laptop computer, tablet and smart phone.

Database is online, not stored in students' devices. So they are independent to use any devices. Students may add their vocabulary at home using desktop computers and use it to play games on their tablets when they travel.

Thank internet to make it possible to access these free brain training exercises from anywhere. Every student in every country around the world can use these free brain training exercises.

If you would like to contact me, please send an email to sompong_thitasomboon@yahoo.com





Big Family Trees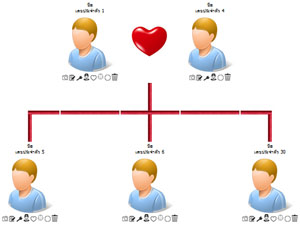 If you build your family tree and connect it to your relatives' family trees like fitting pieces of jigsaw together, you will get a perfect big family tree which you and your relatives can share to get to know one another although they live in different cities or different countries because the family tree explains clearly who is who.


...Click here for more details...